Halloween is approaching quickly, which means it's about time for Halloween home decor! If you plan on decorating your home exterior, keep on reading.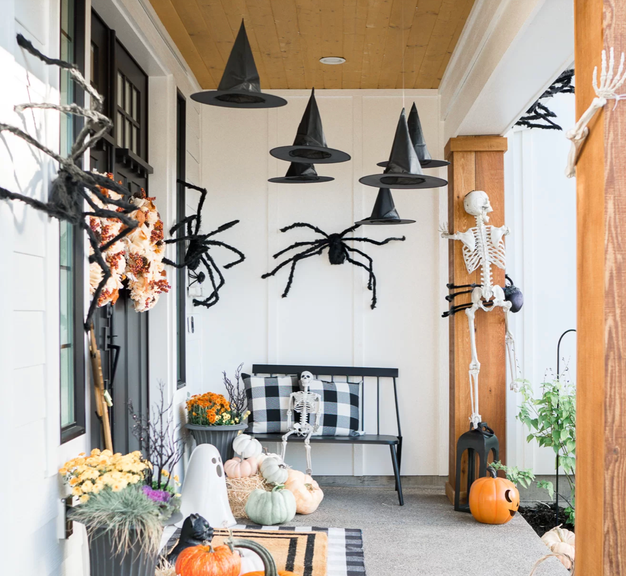 Photo by
Chelsea Hood
Decorating the outside of your home for your favourite spooky holiday can be quite easy - believe it or not. This is the perfect time to get creative with your little ones, all you need is a quick trip to the store or a few online purchases, and an hour or two to get your decorations up and running.
If you have a lawn that you'd like to make Halloween-ready, there are many things you can do to decorate the outside of your home. The lawn sets the tone for the rest of the home, so if it's spooky enough, it'll make people even curious to see what you have in store up-close. Here are some easy ways to decorate your lawn, as explained by
WikiHow
:
1. Old crunchy fall leaves should cover the ground. If there haven't been many fallen leaves, you should avoid raking your lawn during the days leading up to Halloween to make the most of what you have.
2.Take an old pair of boots and have them emerging out of a big pile of leaves or dirt. This will make it look like there's a dead body on your lawn!
3. Stick tombstones out of the ground. Remember that Halloween is all about things being old, dingy, and falling-apart, so your lawn does not have to be perfectly arranged. Have a tombstone here, a tombstone there, and another tombstone that is completely crooked or falling over.
4. If you have trees, cover them with spider webs. Bonus points if you can stick some creepy-crawly critters in them, or if you can add a stuffed owl or raven to a low-hanging branch. 
Your front porch is also a great space to decorate. You can achieve an incredible look using anything from cobwebs, DIY ghosts, spooky door mats, and jack-o'-lantern galore. Next week you can head over to
Loutet Farms
 for their annual pumpkin patch event. 
Bring your family to pick a pumpkin, press apples for fresh apple juice, and celebrate their community market.
 There will also be activities for kids, farm tours, and live music from the
Pacific Bluegrass & Old-Time Music Society
! 
Minimum donation are $5 per pumpkin, t
his is a fundraiser for Loutet Farm, and is supported by Vancity and TD Park People. Make sure 
to BYOJ (bring your own jar) to try some hot apple cider and help us cut down on waste.
P.S. If you're in need of inspiration,
here
are 100 front porch Halloween decor ideas to explore! We recommend checking these out before you head to the pumpkin patch so you have a good idea of how many and what shape / size pumpkins you'll be needing.
Has this gotten you in the mood for Halloween decor? We hope so!