Celebrating Easter at home this year with the family? Let's plan ahead! Here are some great options you can explore over the long weekend!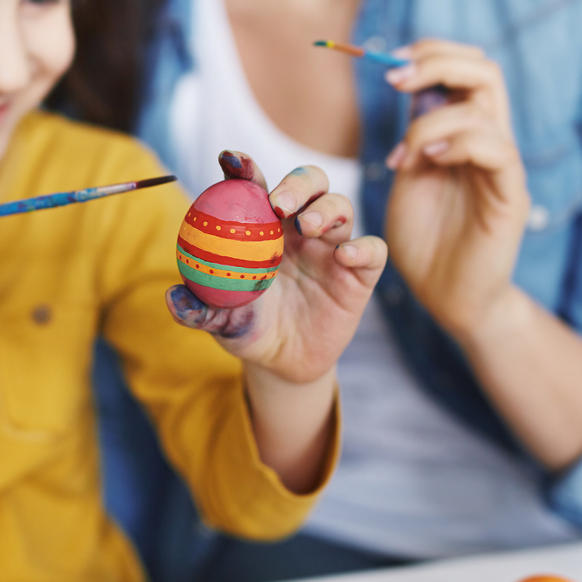 Get started with a little painting fun. You may have plastic Easter eggs leftover from last year, if you do, it's time to pull them out and give them a new purpose. If you don't have any leftover, you'll be able to find plastic eggs at Michaels, Dollarama, or even Amazon. Next you'll need a few paint brushes and paint. Keep in mind regular acrylic paint often comes right off, we suggest opting for chalky paint. Now it's time to get painting, try out an assortment of designs (paint away freely or find inspiration on Pinterest if you'd like). If you have an empty egg carton, use this as a holder for your painted eggs to dry.
Next up, let's plan out an Easter egg hunt. If you have a back yard, you can easily set up your own Easter egg hunt outside. Alternatively, you can set up the hunt indoors - ideally sticking to a few rooms so the search doesn't go on forever! Head to the store and grab an assortment of small chocolate eggs and one chocolate Easter bunny (one for each child), then get to hiding!
Love baking with your family members? This year, try to make Easter pastries and get everyone involved. Easter cake, resurrection rolls, Egg in a nest, or even Easter bunny shaped cookies are great options to explore. 
If your family is deeply into design - including the kids of course - try making an Easter wreath. This can easily be used as a Spring wreath pre or post Easter as the colours flow nicely with the season. You can grab everything you need for this craft from Michaels in North Vancouver.
With these options, you should have enough activities to take up most of your day. We hope you have a wonderful Easter long weekend, and enjoy time with your loved ones.