Ready to soak in the Spring air?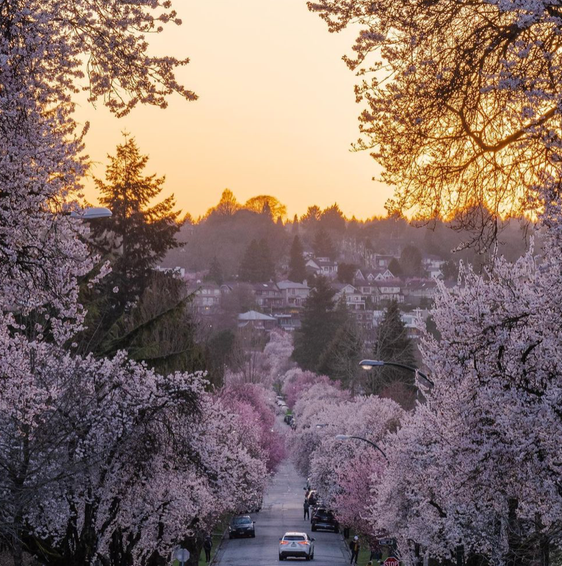 Photo by Stephanie Seto
 // Instagram

There are dozens of beautiful gardens around the Vancouver area where you can enjoy gorgeous Spring flowers, not to mention an abundance of floral filled streets around town. Here are some of our all time favourites!
VanDusen Botanical Garden
VanDusen Botanical Garden
has 55 acres of plants from around the world! If you're looking for a fun outing in the next couple of weeks, the Vancouver Cherry Blossom Festival returns to VanDusen Botanical Garden with Sakura Days Japan Fair on April 9th and 10th.
This
Botanical Garden
consists of themed sections that offer a wide variety of blooms! Tickets for the UBC Botanical Garden are available online in 30-minute entry time slots. They do encourage visitors to stay for 90-minutes, so make sure to book in and enjoy!
Fun fact: the first roses in the
Stanley Park Rose Garden
were planted in 1920. Today there are over 3,500 rose bushes. Don't miss the climbing roses and clematis this Spring. We highly recommend heading over to the Rose Garden over the next few weeks - make a day of it and walk the sea wall while you're there!
This park is a popular spot for photos at any time of year. If you're ready to see and take memorable photos of the Vancouver cherry blossoms, head to the slopes on the west side of Queen Elizabeth Park or to the area near the park entrance on 33rd Avenue and enjoy! If you're heading here over the weekend, make a pit stop at Browns Socialhouse QE Theatre or Ventura Room - Ventura Room is a cocktail bar directly underneath the Browns Socialhouse establishment and their refreshing drinks are just what you need on a nice Spring day.