Ready to bring Fall into your home? We love the warmth this season brings, and have sourced a few ideas for those of you looking to bring more of the Fall look into your spaces. Keep reading and get inspired!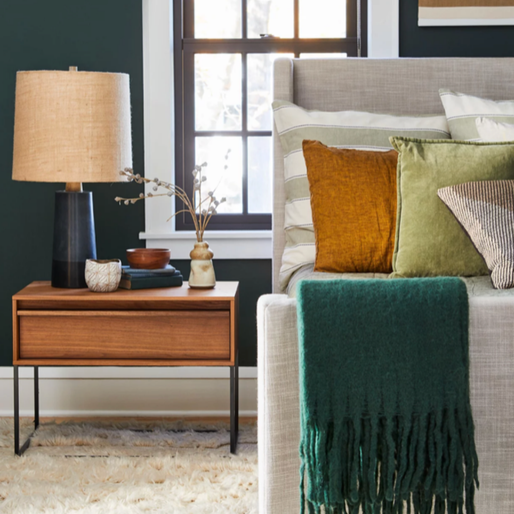 Typically, colours such as orange, warm red, and yellow are what represent the Fall season.This year however, designers are increasingly turning to other nature-inspired hues to create refined fall color combinations. As Kathy Kuo, CEO and founder of
Kathy Kuo Home
explains, "I always gravitate toward warm, richer tones come the fall season, such as deep greens, blues, and browns. I love designing with these colours because of the layer of sophistication and character they add to a space without overpowering it." These tones truly feel appropriate for the season when used in deeper shades with warm undertones and bring liveliness to any space.
Image by
David Tsay // Better Homes & Gardens

Another factor that exudes Fall, for us at least, is scent. The smell of a fresh vanilla candle has the power to bring a sense of coziness and ease into any space for example. Try adding a few candles to your dining table if you'd prefer to go easy on other decor options. We love stopping by Michaels for an assortment of candles, or HomeSense - they both have great options!

Now that we've covered colours and scents, it's time to discuss fabrics. With the Vancouver rain coming in strong, getting cozy on the couch or in bed with a warm textured fabric is essential.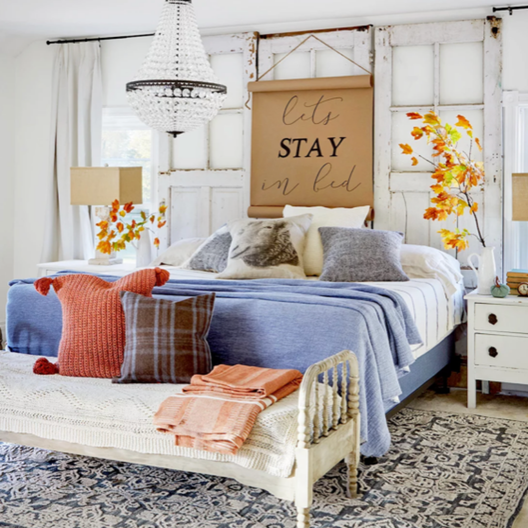 Image by
Werner Straube // Better Homes & Gardens
New York interior designer Courtney Sempliner
States that "layering chunky knitted blankets and decorative pillows with velvets and other rich, textured fabrics will quickly transform your space from a light and airy summer feel to a warm and welcoming fall vibe." We couldn't agree more. Especially with little ones in the house, having textured fabrics brings a sense of warmth to the home and makes for even better family movie nights or simple hang outs.
We hope these quick tips are helpful when it comes to bringing some Fall decor into your home. If you're on the look out for a new home this season, or are considering selling your property, we're here to help. From home staging, professional photo and videography, social media exposure, and market strategy, we have your covered.
Contact us today to begin discussing your Fall real estate goals.