Whether you're searching for a playground, a waterside stroll, or a trek 
through the forest, North Vancouvers' parks are undeniably some of the very best. In honour of this, let's highlight some of our personal favourites along with some of their unique features!
Cates Park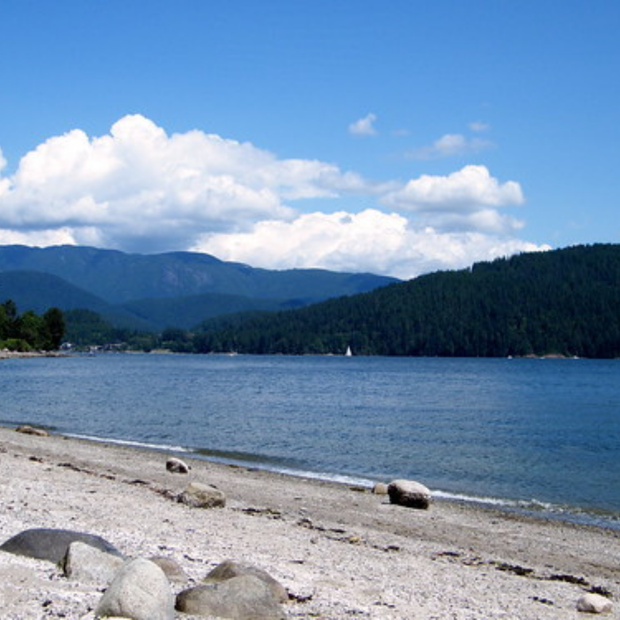 Image courtesy of
Inside Vancouver
As explained by
Deep Cove BC
, while we call this area Cates Park, the ancestral name for this land is Whey-Ah-Whichen which means 'faces the wind' and is North Vancouver District's largest seaside park. 
Fun Facts (courtesy of
Deep Cove BC
):
Location: Cates Park can be found off the 200 block of Dollarton Highway.

District park, playground, tennis courts, practice court, boat launch, washrooms, change rooms, parking, snack shop.

Offers a picnic area, boating, swimming, hiking, picnic shelter, beach and seating area.

There is a First Nation canoe on display and a beautiful totem pole by the canoe.

The boat launch is open year-round for boats and kayaks.

Dogs are permitted on leash, year round, on the upper trail east and west of the entrance road only.
Inter River Park 
Image courtesy of
Van Doggo
One of North Vancouver's lesser known parks is Inter River Park, featuring walking trails through the forest as well as several full-size sports fields, a BMX bike park and off-leash dog areas.
Fun Facts (courtesy of
Vancouver's Best Places
):
Location: Just north of the Second Narrows/Ironworkers Memorial Bridge in the District of North Vancouver.

It has eight sports fields including facilities for soccer, baseball and softball.

It also has an outdoor lacrosse box.

Features hiking trails that, heading north, eventually meet up with

Lynn Canyon Park

.
Victoria Park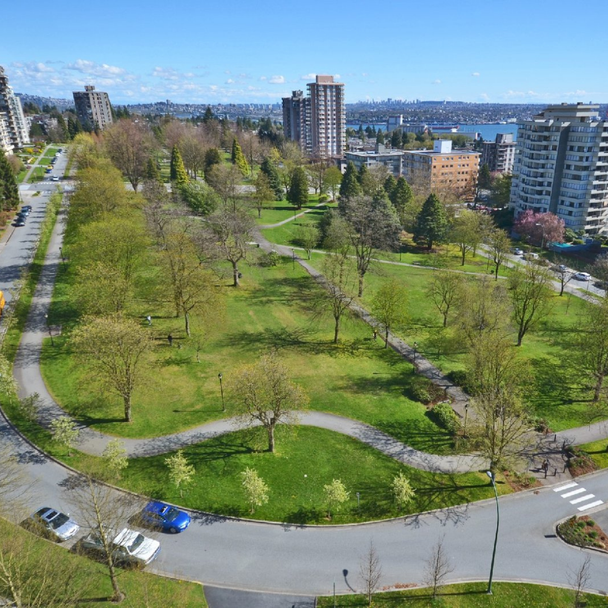 Image courtesy of
BChomesandCondos
As
Historic Places
calls forth, the heritage value of Victoria Park is associated with its role as the first and central component of a rectilinear system of boulevards and parks known as North Vancouver's "Green Necklace." The park is further valued as witness to annual Remembrance Day ceremonies, that honour the citizens of North Vancouver who have lost their lives in war. 
Fun Facts (courtesy of
Historic Places
):
Location: Victoria Park is located on and bisected by Lonsdale Avenue at Keith Road.

There are three notable structures in Victoria Park - the 1915 horse trough, the 1923 cenotaph and the Cold War air raid siren. 

This urban park is 3.9 hectares in size.

The park is further valued as witness to annual Remembrance Day ceremonies, that honour the citizens of North Vancouver who have lost their lives in war. 
Mahon Park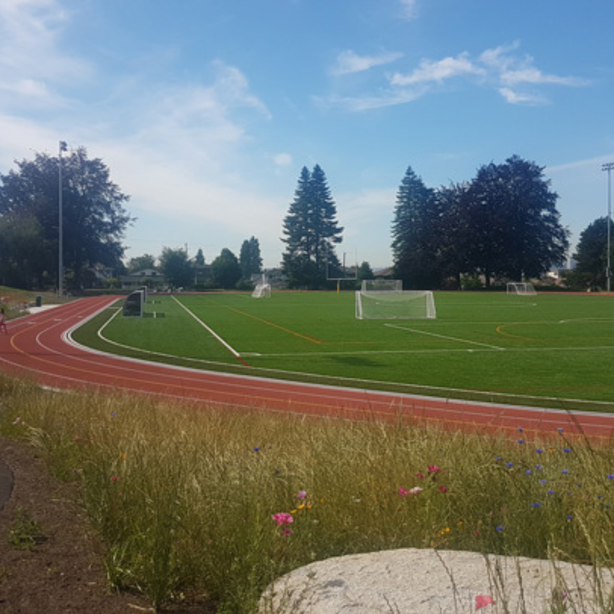 Image courtesy of
CNV
As
CNV
points out, Mahon Park is one of the City's largest and oldest parks, and has a well-established history in both sports and its natural setting. The key improvements to the park are the installations of an artificial turf sports field and a rubberized community track in place of the existing gravel surfaces. Other exciting additions to the park include a recreational running track, pods of adult fitness equipment, and minor renovations to the stadium building.
Fun Facts (courtesy of
Lower Lonsdale
):
The park itself was named after Edward Mahon (pronounced Mann) who emigrated from England in 1888 along with his brother. 

Soon after opening, the park was utilized as a training ground in preparation for World War I by the 6thField Company of Canadian Engineers branch of the Canadian military. 

Legendary track and field star Harry Jerome threw a no-hit game as a teenage pitcher on the baseball diamond in the mid 1950's, not once but twice.
Ray Perrault Park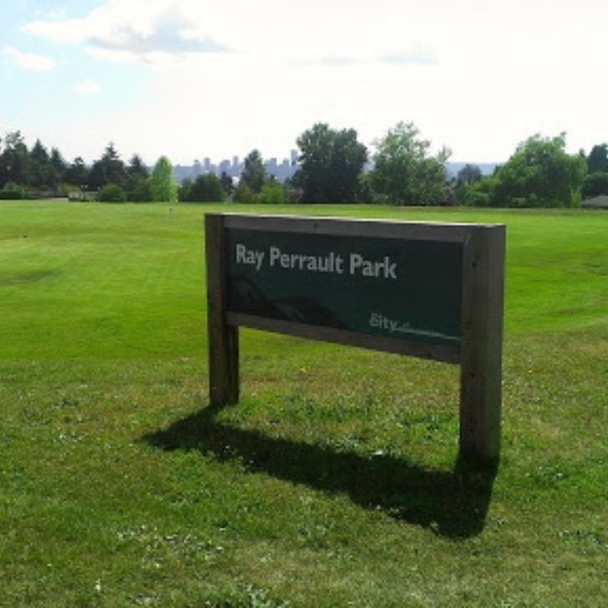 Image courtesy of
Outgress
This park, located just off Grand Boulevard, offers everything you need for a couple hours of family fun! Whether you're looking to get your sweat on playing sports, or offer the kids a fun place to play, the possibilities are endless.
Fun Facts (courtesy of
North Shore Kids
):
Offers a wide variety of sporting activities, from cycling and running to tennis, soccer, basketball, and even bocce courts.

There are full washrooms and plenty of designated parking.

The park also has lights, which are very welcome for evening play during the autumn/winter months.  

On one side, the toddler area offers a few fun options and it is set on sand so the entire place is one giant sandbox. 

On the other side, there is a more daring structure for school-age kids, with a zipline and other hanging options, as well as a slide. 

Waterfront Park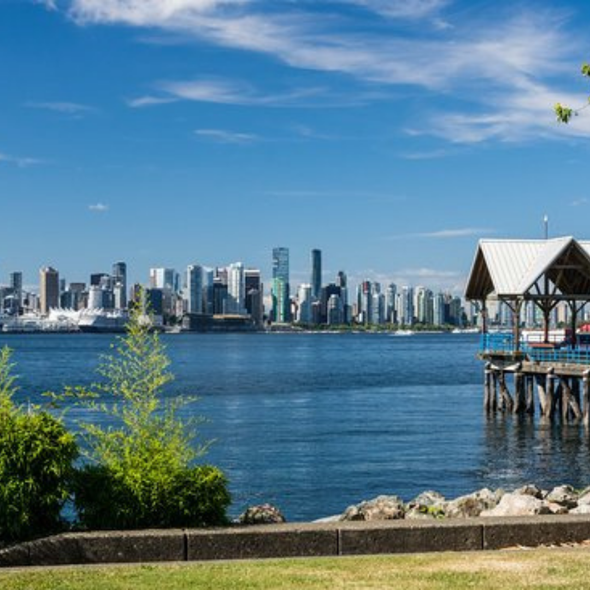 Image courtesy of
Trip Advisor
Waterfront Park is a local favourite near Lonsdale Quay in the Lower Lonsdale District of North Vancouver. In addition to the large grass field and children's play area, it also features an off-leash dog park and a gorgeous Japanese garden.
Fun Facts (courtesy of
Vancouver's Best Places
): 
It was one of the first parks in British Columbia where you can drink alcohol in public (subject to certain times and restrictions).

Connects to the Spirit Trail which runs along the waterfront.

Features beautiful views of Burrard Inlet and the

City of Vancouver

.

The park has a dock, large grassy area, playground and collection of local art.

The area of Waterfront Park was originally a sawmill in the 1800s.
Looking for a home surrounded by parks and fantastic amenities? Don't hesitate to contact us, we'd love to help you find the perfect home in your neighbourhood of choice.