Working from home is one of the biggest trends to come out of 2020.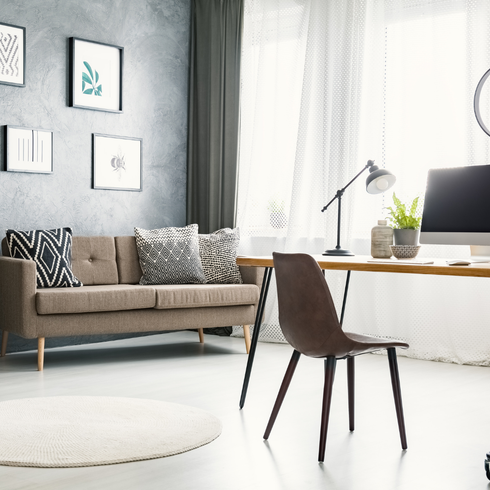 For many of us, having a home office has become a necessity, which is why we'll be explaining some of the 2021 home office design trends that are yet to come.
Have you heard of the newest design trend
Grandmillenial
?
Grandmillenial Grandeur
focuses on creating a cozy aesthetic by using pretty florals and textiles while still staying in this century. It adds a sense of comfort and familiarity to any space and is a great way to feel at ease in your home office. To add some Grandmillenial style to your office, try adding floral cushions or curtains, or adding a cool lamp to your desk. This will definitely bring some life to the space.
Another trend coming to the home office scene - thanks to the wonderful Marie Condo - is
minimality
. The goal is to eliminate any clutter or unnecessary objects that aren't adding value to your room. You can achieve this look by adding clean minimalistic office furniture to your space, and removing all clutter for a clean and refreshed work space.

We are expected to also see more and more greenery as well as floating shelves to go along with them in working atmospheres. We're seeing many different designs of plants in office spaces, hanging down beautifully on floating shelves. This is a great way to add a pop of design and life to your home office.
And let's not forget colour!
HGTV
is forecasting 2021 colour trends to be focused on warm and comforting colours such as wine reds, golden yellows, and sagey greens. Use decor such as wall art, rugs and throws to bring some colour into your office if you'd prefer to avoid painting.
Make your office Zoom ready. As we all know there was a massive influx of Zoom usage in 2020. This year, we're expected to be using this application consistently and therefore need to ensure our backgrounds are prepared.
Interior designers
are predicting that we will see a surge of stylish walls like we've never seen before, complete with intricate bookshelves and well-styled galleries to make for the perfect video conference backdrop.
Lastly, we're set to see more and more focus around home office lighting - and for good reason. Lighting plays a huge role on our productivity, sleep, and overall health & wellbeing. Add more light to your home office by opting for sheer window covers that allow for lots of natural light. If your office area isn't near a window, add a floor lamp beside your workspace to brighten things up.
We hope these trend suggestions help when it comes to ramping up your home office this year. 
If you're thinking of making a move in order to have more space as you transition to working from home, don't hesitate to contact us. We'd love to help find you the perfect home.