Although the usual Canyon Lights Festival at Capilano Suspension Bridge has been cancelled for the season, that doesn't mean you can't still take in all the beauty of the
Christmas lights
! You and your family can still explore the park during the hours of 11am-6pm daily with the lights on!
Photo thanks to
@ashkaleigh
If you plan on visiting Capilano Suspension Bridge make sure to book a timeslot online through their website. You can do so 
here!

Reservations are mandatory and there are no ticket sales onsite, so make sure to book before you go. The last available time slot is 5-5:30pm and the park closes at 6:30pm, giving you lots of time to take in all the beauty of the twinkling Christmas lights.

Capilano Suspension Bridge has worked hard to implemented a Covid-19 Safety plan that ensures the safety of all visitors and park workers. We had such a wonderful time exploring the park and admiring all of the beautiful twinkling Christmas lights. It was great feeling the Christmas spirit with my family and enjoy an evening out. 
*Please note masks are required, and we were all wearing masks (they were pulled down for a quick family snapshot!).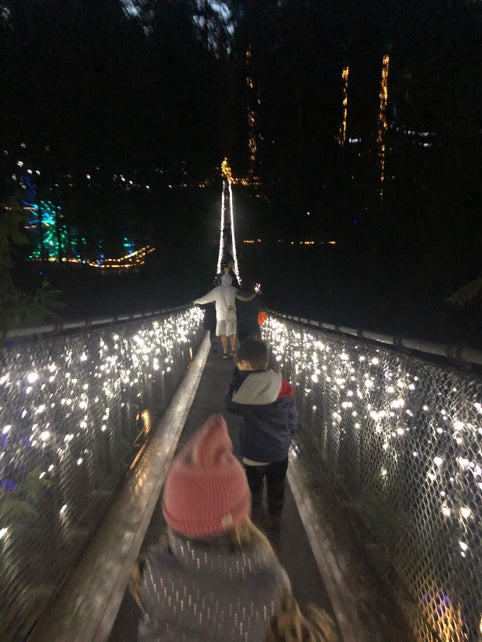 Make sure you dress warm so you can take your time to really soak in all of the lights - trust me, you and your little ones will love this.
Wishing you a fun and safe time!