Are you looking for ways to relax with friends and family this weekend? Here are some parks around Vancouver you should visit!
Waterfront park boasts beautiful views of the Burrard Inlet and downtown Vancouver's breathtaking skyline. It's located just minutes away from Lonsdale Quay and the Seabus for easy accessibility. Waterfront Park offers benches, a children's play area, as well as restrooms, making it a great park for family picnics and fun.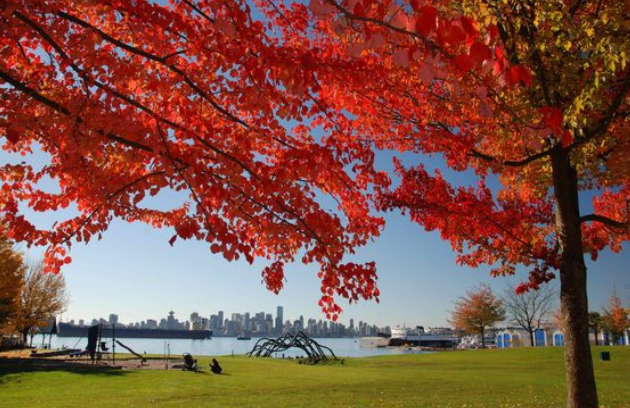 Photo: Ted Hayes
This oceanside park offers a variety of amenities making it perfect to soak up the Fall rays (given that the smoke hopefully clears up!). The park offers 6 km of waterfront trails, children's playground, picnic shelters,  tennis courts, and a year-round boat launch.
Panorama Park overlooks the scenic Deep Cove waterfront. The park features benches, a playground, a beach, and lots of grass to enjoy a picnic or play a game of catch!
Ray Perrault Park, (formerly known as Boulevard Park) was redesigned in 2012 to be a family-inclusive, and activity-filled park. The playground was developed with the ambition of creating healthy social experiences amongst children, and promote thoughtful creative thinking, as explained by the City of North Vancouver. Other activities at the park include a tennis court, basketball court, soccer field, bocce court, and grassy fields. A great park to ensure the whole family can have fun!
Victoria Park is a part of North Vancouver's Green Necklace, a series of parks and nature walks linked on the North Shore. The urban park is located in central Lonsdale on Keith Road and spans 3.9 hectares. This park includes grassy fields, tree lined pathways, and memorials from the cold war. It's a great park to catch up with friends, and indulge in a picnic. (PS. The West side of the park is an alcohol allowed zone, so pack a cooler, or two!)
Heywood Park is located on the western boundary of the City of North Vancouver and offers a beautiful 16 acres of serenity. The park has rainforest-covered paths, a playground, washrooms, and a sports field! There are tons of trails that weave through the rainforest and are suitable for all ages and abilities.
Located amongst North Vancouver's Spirit Trail, Harbourside Park offers a unique waterfront park with beaches, volleyball courts, and a dog park. The area has become a popular destination for people to have picnics, play music, and relax and watch the seals sun-bake on washed-up logs.
Ambleside Park, located in West Vancouver, is a great place to unwind and watch the sunset. The area has a soccer field and skate park to keep the children occupied while the adults enjoy the views of Stanley Park. 
We hope you have a wonderful  and safe weekend! Please don't hesitate to contact us if you have any questions about buying or selling around any of the fantastic parks we mentioned.