The 
H.R. MacMillan Space Centre
is a landmark at Kits Point and is a destination for school field trips, locals, and tourists. As reported in BIV Business today they are looking to raise $5.4 million to purchase new projectors and equipment for the centre.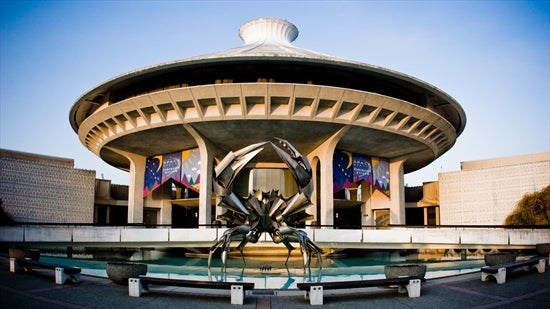 Let's hope that the City of Vancouver shells out some extra cash during this process to upgrade the 60's style bathrooms as well!
For the full story from BIV Business see below.
The
H.R. MacMillan Space Centre
, which will stop showing laser rock shows on January 28, is gearing up for a $5.4 million fundraising drive so it can buy new projectors for its iconic circular theatre.
It is also renewing its business plan and urging its landlord, the
City of Vancouver
, to upgrade the 43-year-old facility.
The space centre's laser rock shows, which have been an attraction for 30 years, have been presented by Vancouver's
Roundhouse Productions
.
The space centre, which some people fondly call the Planetarium, is not renewing Roundhouse Productions' rental agreement, the space centre's executive director
Rob Appleton
told Business in Vancouver January 10.
"The plan is to do a renewal of our technology," he said. "Planetarium technology is a bit old. What we want is better than high definition TV."
Appleton expects the technology renewal to cost about $5.4 million.
Upgrades to washrooms, which resemble 1960s-era high school lavatories, will come if the City of Vancouver antes up extra money for the renovations.
"If we're state-of-the-art in the Planetarium and you go to the washroom on that level, we don't want you to feel that you're entering a time warp," he said.
The space centre has produced its own shows and sold them to other space centres until the late 1980s.
Appleton wants to get back into selling proprietary content.
"We're working with
Shaw Cablesystems
and
Bardel Entertainment
and the
Centre for Digital Media
as our production partners," he said.
Glen Korstrom
@GlenKorstrom
gkorstrom@biv.com