As reported today in the Vancouver Courier our West Side's Kitsilano Secondary School will be receiving $57.8 million towards its restoration and seismic upgrades.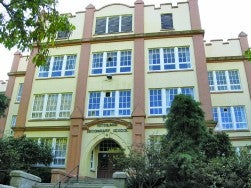 SCHOOL PROJECTS
The International Village school hit the news this week after the provincial government announced it was one of the B.C. schools approved as part of $353 million in new capital funding.
But last week, Kitsilano secondary was the focus for local and provincial politicians. Premier Christy Clark and Education Minister George Abbott appeared at the West Side high school Oct. 28 to announce $57.8 million towards its restoration and seismic upgrade project.
Located at 2550 West 10th Ave., the school is at high risk of damage in an earthquake and planning has been underway to fix it. In 2010, the VSB unanimously approved a design concept, which will transform the school and its grounds, but preserve the 10th Avenue heritage façade. Kits features a main building and several additions. The 1927 block is regarded as an important part of the Kitsilano neighbourhood. It's designed in the Tudor revival style and this block and a later addition are included on the Vancouver heritage registry.
A 2008 study ranked Kitsilano 25 out of 25 for heritage value. Friday's announcement noted the renewed school will feature three gymnasiums, a 350-seat theatre, green space for students and space for individual support and group work. Construction is expected to be completed in early 2016 and it will take place in three phases to minimize disruption to students and staff.
The school will be built to LEED (Leadership in Energy add Environment Design) gold standard.
Vancouver School Board chair Patti Bacchus spoke at the funding announcement flanked by Clark and Abbott. She later wrote, "This wonderful news is an exciting example of advocacy working for the best outcomes for our students, families and communities. This renewed school will serve generations of students in a safe, sustainable and stimulating building."
SHARING THE WEALTH
Politicians aren't the only ones handing money out. Students at McKechnie elementary have been raising cash for a small community in Ghana for the past year after being inspired by last year's We Day event, which encourages students to "create positive change" in the world.
Twenty-three students from ages 10 to 12 in McKechnie's humanitarian club staged fundraisers including as a walk-a-thon, which collected more than $10,000 for Ghana's Tichele primary school.
The money was used to buy a water harvesting system and fix the roof of the school. It was blown off during a tropical storm.
Late last week, representatives from Tichele primary met students and staff at McKechnie to thank them for their contributions.
Read more: 
http://www.vancourier.com/news/Class+Notes/5643350/story.html#ixzz1cZc2NyCc