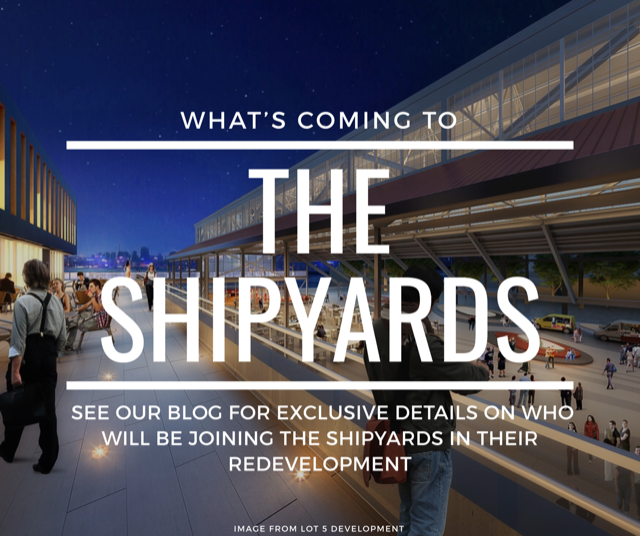 Are you interested in knowing what exactly will be going into the new Shipyards developmental space, currently under construction in Lower Lonsdale?
In addition to a brand new splash park, outdoor skating rink, and stunning ferris wheel that will be coming soon, there will also be incredible new tenants joining the space, including restaurants, cafes, retail stores, markets, and more!
To give you a better idea, here is a a list of businesses joining in on the Shipyards fun:
Capliano University "CapU Lonsdale"

will be open for Fall 2019 with 11,000 SF of space, and will be home to the University's relocated Continuing Studies & Executive Education program, as well as select other courses.

Caffe Artigiano,

a locally owned cafe that will include access to an expansive patio with tons of outdoor seating & fire pit!

Jamjar Canteen,

a casual Lebanese restaurant catering to health conscious diners.

Joey Shipyards

will also be joining the Shipyards with a massive 9,500 SF flagship restaurant over two-storeys and two spacious waterfront patios.

Larry's Market,

a vegetarian, organic, and local market.

Main Street Honey Shoppe

which will provide apitherapy products for health and nutrition, as well as natural body care products.

Method indoor cycling,

a bright and spacious 2,500 SF indoor cycling unit located on the second floor of the Shipyards.

Nook

will also be joining the Shipyards with delicious fresh Italian comfort food.

Seaside by Executive Hotels & Resorts

will offer the Shipyards 72 rooms and ocean facing spa suites in a high end boutique hotel.

Volcom,

a clothing and accessories retail space will also be joining the Shipyards with both women & mens collections.

The Wallace,

a modern-industrial venue will be joining the Shipyards to provide guests with beautiful city views and 2,300 SF of outdoor terrace space.

Welcome Parlour Ice Cream,

a locally owned business will be placing their second location in the Shipyards, featuring delicious hand crafted ice cream, candies, and chocolates.
If you'd like more information on the Shipyard District, Lower Lonsdale, or are interested in making a move to the area please send us an email to 
morganduvernetrealestate@gmail.com
 or 
kelsiestruch@gmail.com
 we'd love to talk to you about the latest market trends and available properties for purchase.