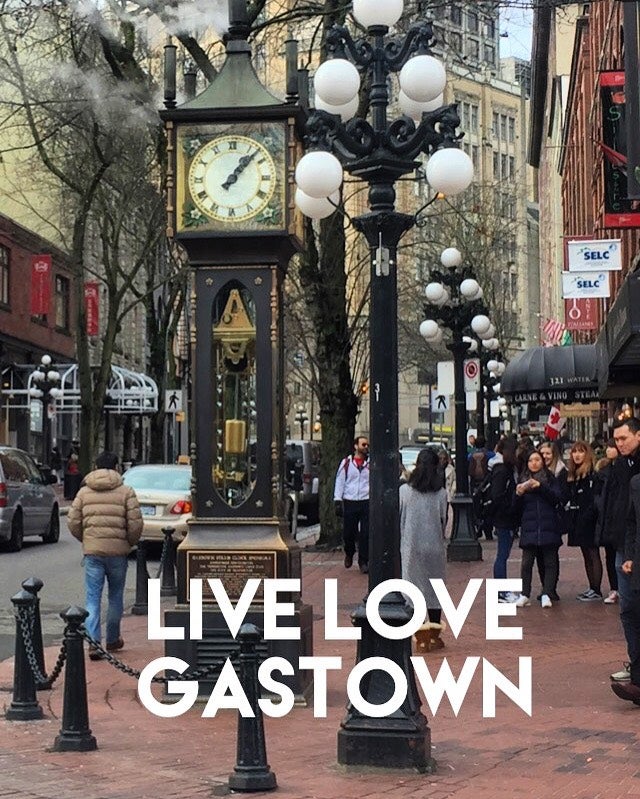 Author: Roma Barba
We love Vancouver's oldest neighborhood, and enjoy living, loving and selling Gastown!
Gastown is the city that never sleeps. It brings to mind areas in Brooklyn, New York, the arts district in Paris and certain areas of Venice – specifically walking along Abbot Kinney in So Cal. From the European lamp posts that light up the evening sky to the The vibe can't be beat with a mix of young entrepreneurs, tourists, residents and business owners. From restaurants, to furniture stores and bars, to the Vancouver Film School and Simon Frasier University campuses, there's definitely something for everybody to enjoy. Due to its proximity to the port in Downtown, it's usually the first stop for tourists who disembark the cruise ships in the harbour making it their first stop in beautiful Vancouver!
While there's lots to see and do, we came up with a list of our Gastown Favourites!
A tourist favourite, the Steam Clock (photo below), was installed in the city in 1977 during the Gastown's revitalization period, it was used to create a focal point and to reference Gastown's industrial past with where underground machinery was powered by steam pipes. Because of its European design, it looks like it's a lot older than it actually is, but the effect is pretty cool, nonetheless. You know it's ready to go off when a large crowd surrounds it and they're all sporting their selfie-stick and a huge smile of delight! I'm sure it must be one of the most photographed and videoed pieces of Vancouver on social media all over the world!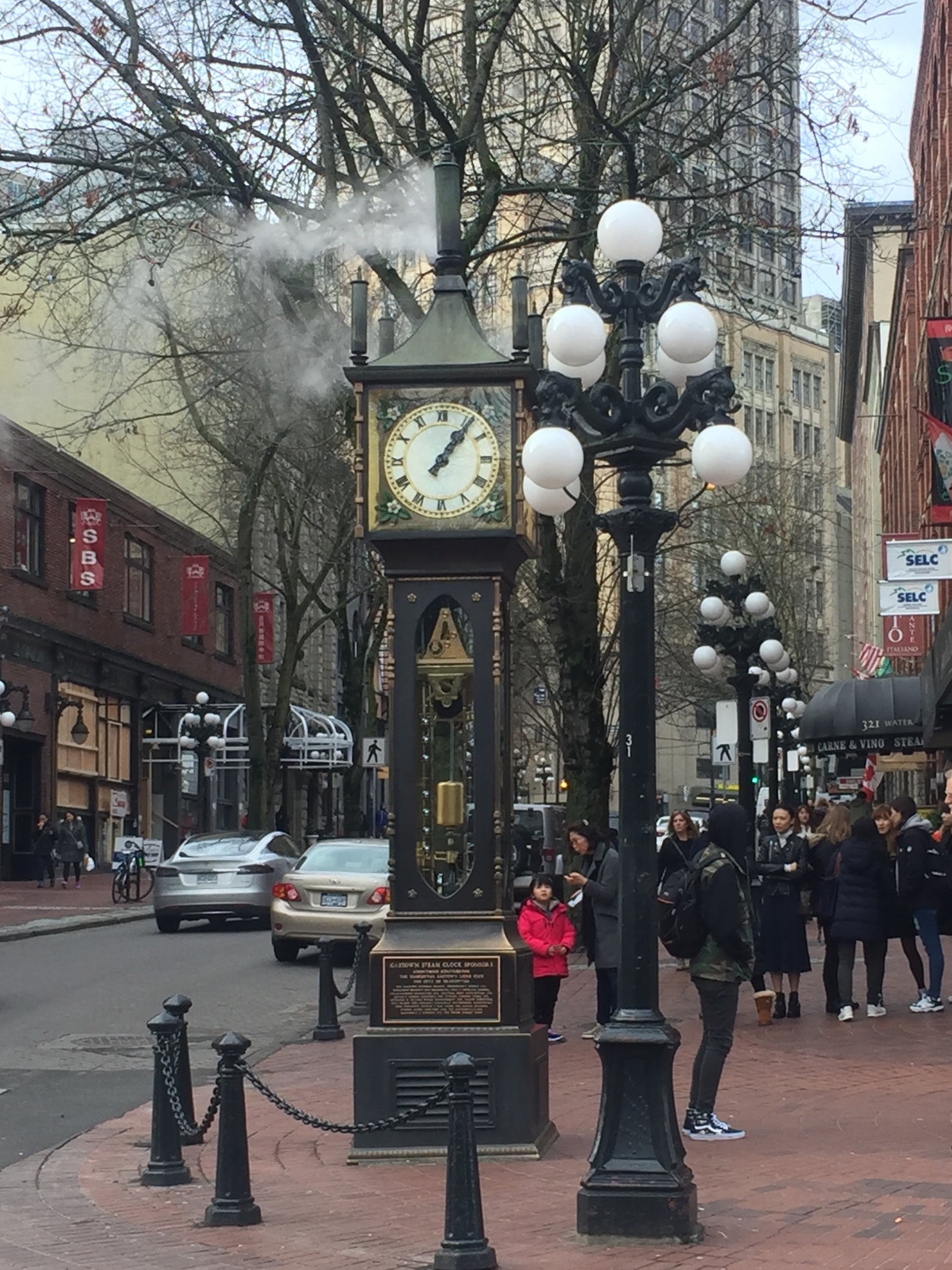 Gastown is such a vibrant place where the new, and there is quite a lot of new businesses going into the oldest part of town, mixed with the old, which is why it's such a draw for visitors.
One thing that Gastown offers in Downtown Vancouver is a gastronomic's paradise! From pizza to pasta to sushi and pub food, the restaurants in Gastown appeal to all type of foodies.
Across the street from the Steam Clock is the Water Street Café. You won't find a better view of this attraction than from the inside of one of our favourite café's!
Water Street Café
We love the Water Street Café. Housed in the Heritage Building, the Edward Hotel has been standing since 1906. The Café was added in 1988 and has been a landmark since, and an avid spot for the film industry where many television shows and movies have been shot there. The staff is attentive, the menu features great selections of pasta, chicken and fish dishes along with sandwiches, salads and my favorite, the frittata which changes from day to day. It's also a great place to host a private party!
This trendy little café fills up quickly, as we usually go around noon and there's usually not many tables left. Frances is our favorite server, and if you want the best seat in the house, call ahead for a reservation for a table for 2 at Table 4 (seen in the corner of this photo).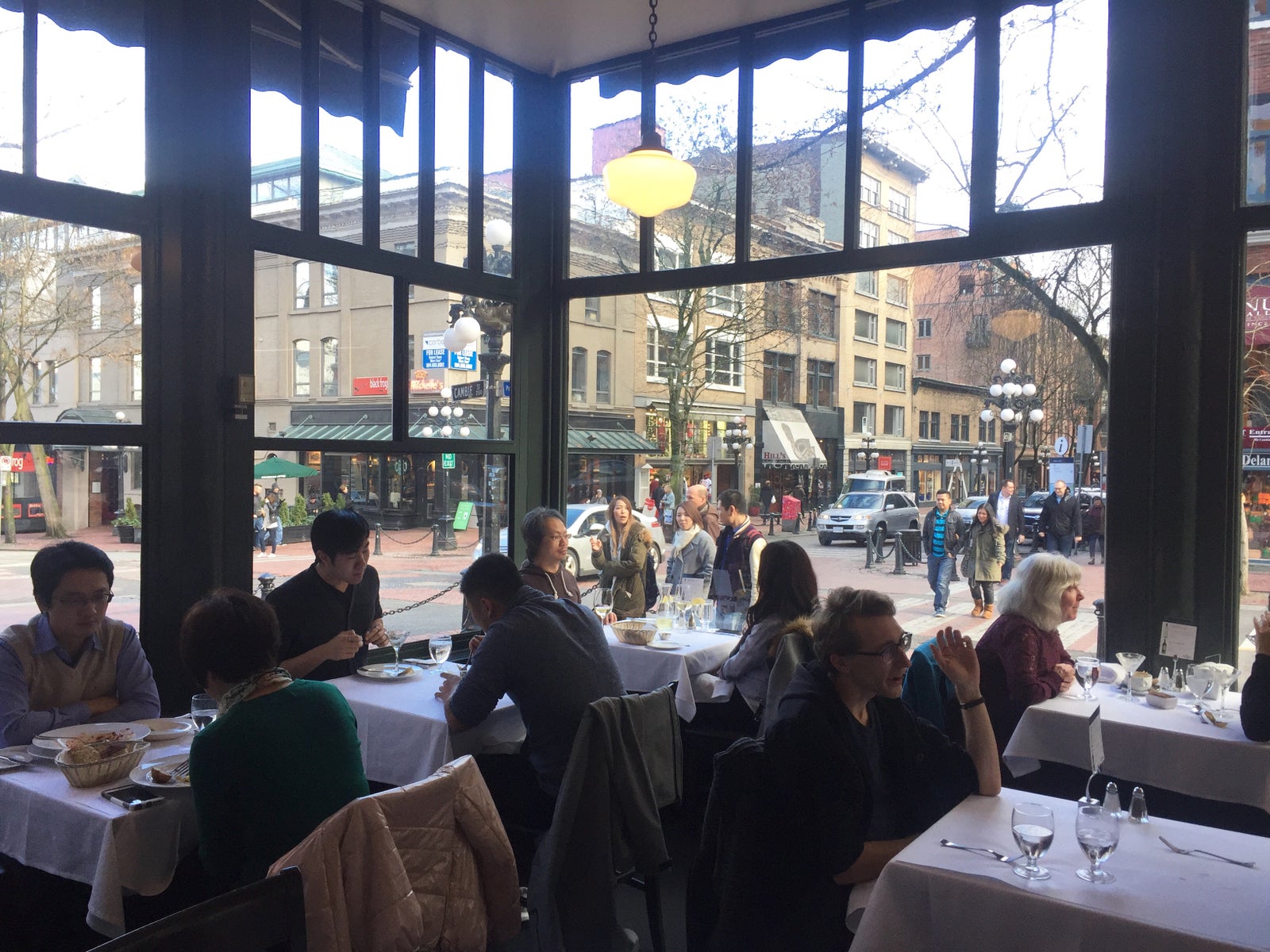 Also, the view of the steam clock can't be beat from inside, so it makes the perfect rainy day location to see that steam clock go off on the quarter hour while you wine and dine!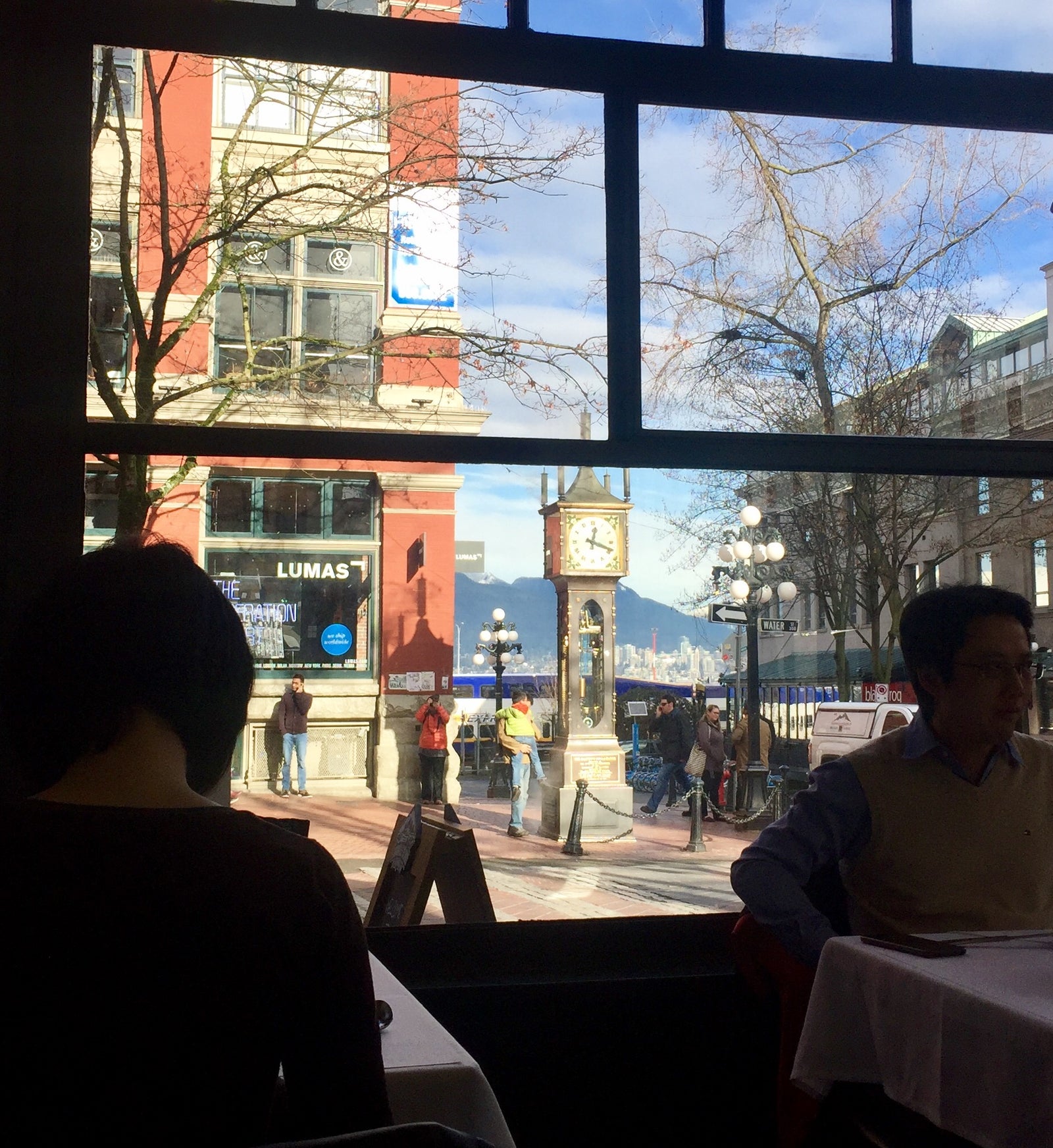 During the warmer climates, the patio opens up out front and is such a great place to kick up your feet after an afternoon of shopping and browsing the art galleries to just sit and have a drink and people watch.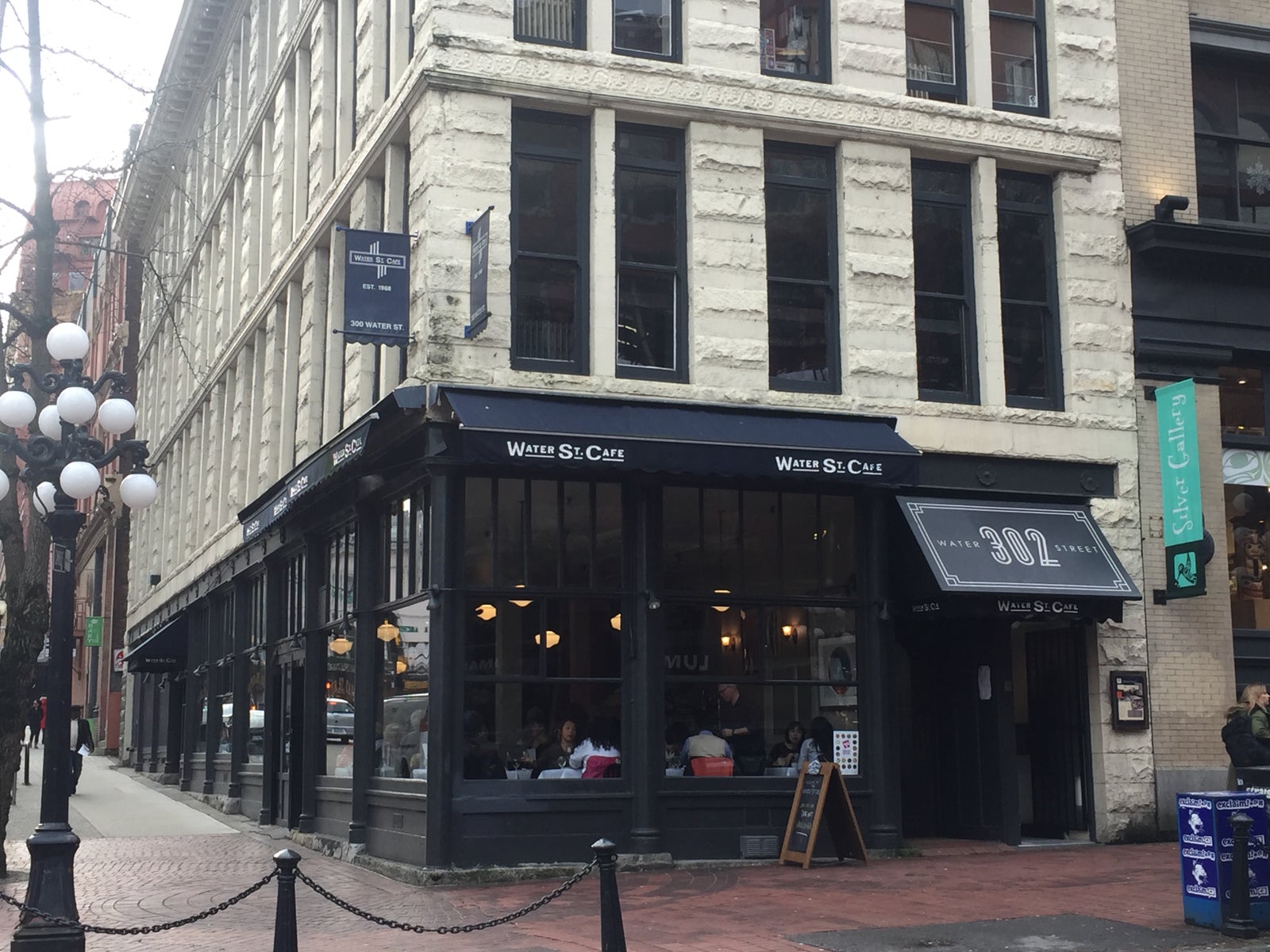 Two words describe the Flying Pig. COMFORT FOOD! If it's comfort food that you're seeking, hands down, this is where you want to dine. Rain got you down? This is the place to be. The ambience and amazing comfort food will put you in the right frame of mind :)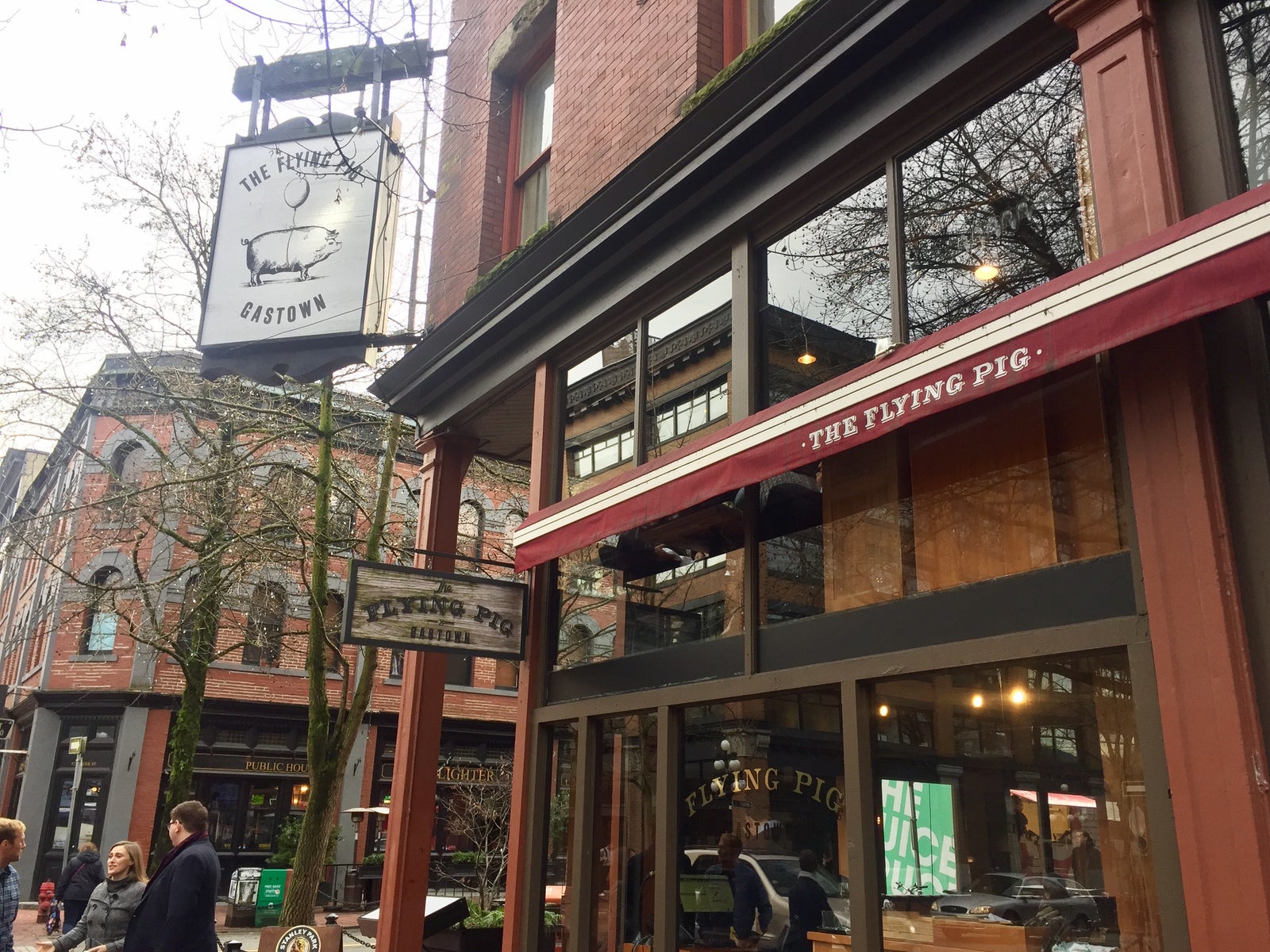 This is another favourite lunch and dinner spot! If you haven't had their brussel sprouts, the mac & cheese, or their short rib with bone marrow, OMG, get there! While it's a chain, with a few other locations around town, it's such a fun spot for drinks or to meet up with friends.
TACOFINO
Taco Tuesday anyone? TACOFINO - Great food, great menu, their tacos are on spot! Started at the beach in Tofino in 2009, and still going strong all around Vancouver, this West Coast inspired company makes the most authentic taco I've had so far in Vancity! You know it's a great taco when you've gotta line up for one, and recently, they announced that they deliver! Ole, ole!!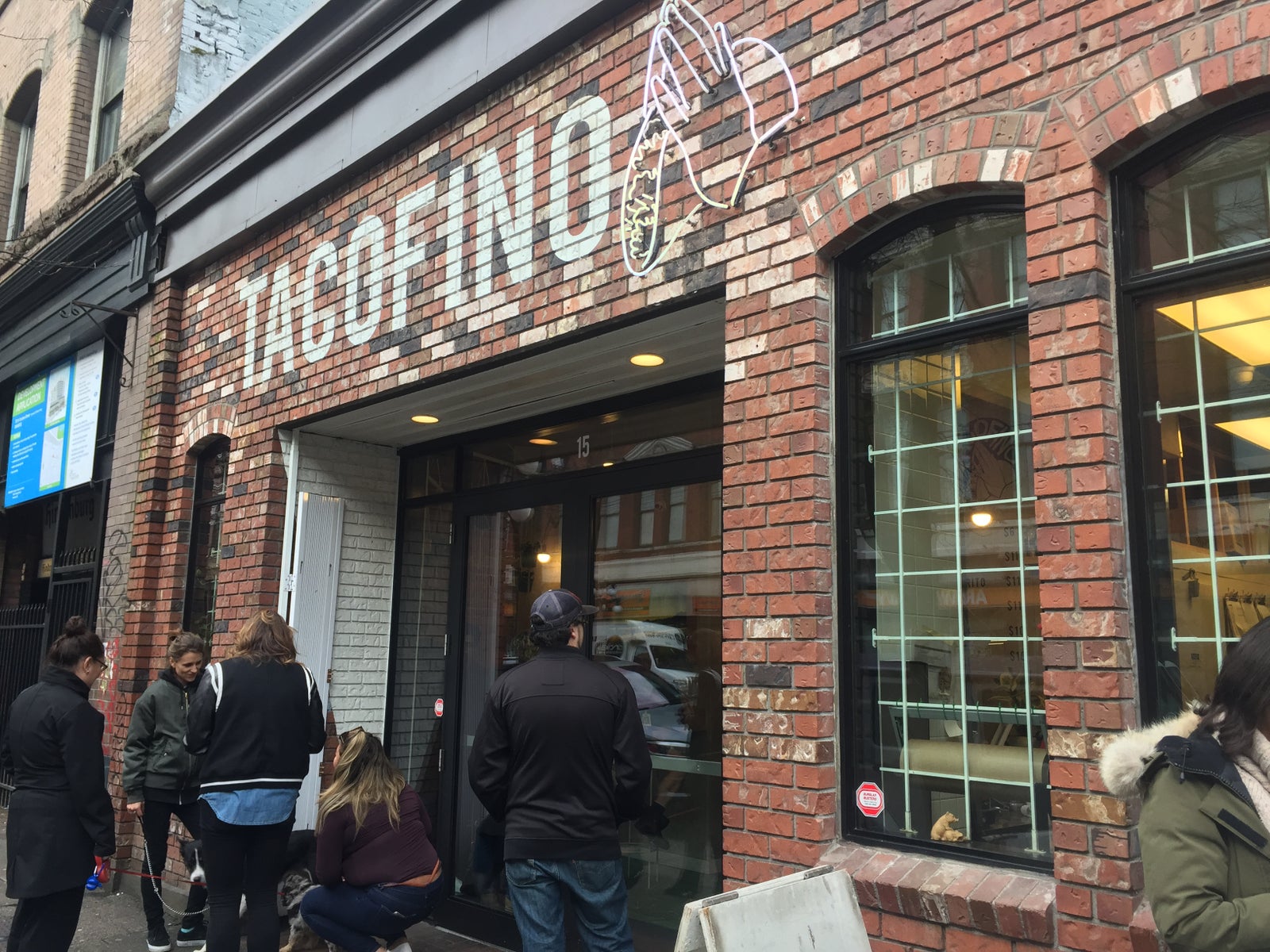 The main entrance is on Hastings Street with a take-out counter in the front for your to-go orders.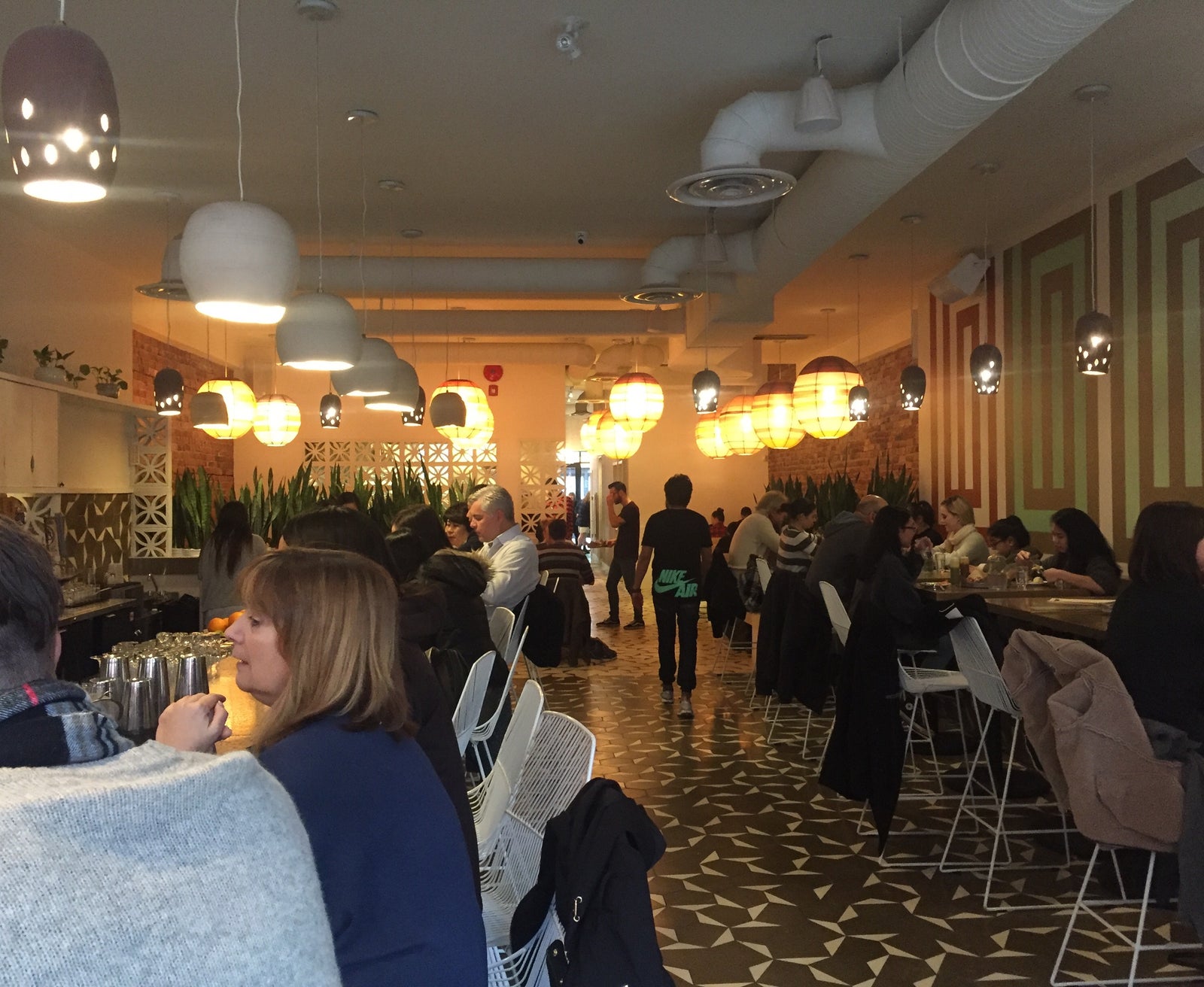 Full seating dining room with a bar in the back of the restaurant. Absolutely love the vibe of this place. The interior design is chic and trendy, the bar is always hopping, and the music is always on point. Guests are always having a great time, and on most tables you'll see an order of nachos – they're amazing!
Wanna Just Chill? Then head to…
CHILL WINSTON
We love Chill Winston, a fun gastrolounge where people come to mingle right after work. If you like tapas style, then this is the place for you. With farm to table veggies straight from their farm plot in Tsawwassen, they offer sustainable proteins, hormone and antibiotic free meats and line caught ocean catch. It's a great place to grab a glass of wine, a pint of beer and chill out with your homies.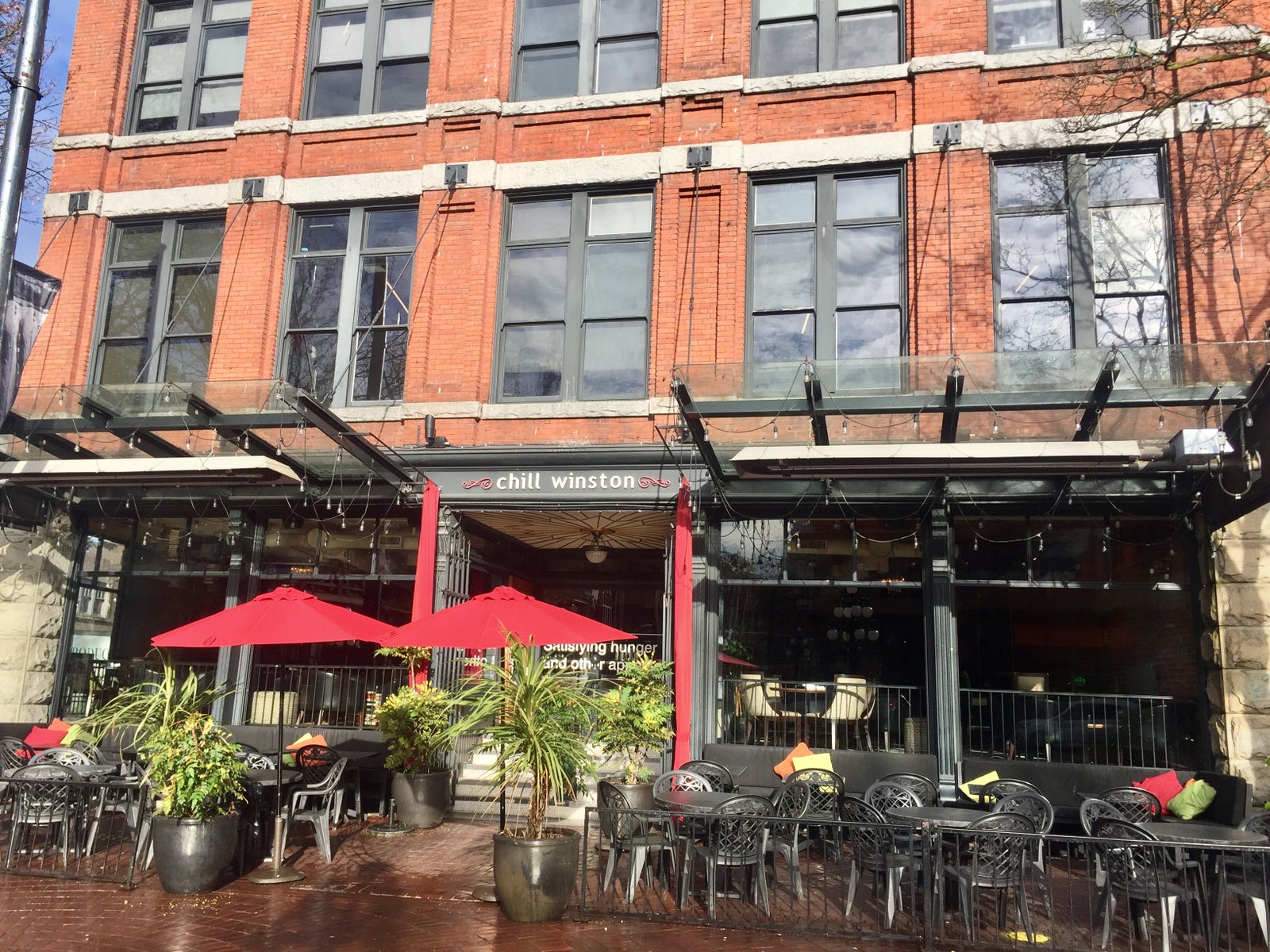 If you see sweet potato fries on the menu, order them. Nothing better than a glass of wine with a side of fries J It's the perfect combo!
This patio is packed in the summer with usually quite a long reservation list. Local and visitors alike love to frequent Chill Winston literally located in the heart of Gastown where Alexander and Powell Street merge into Water Street. Superb location. Superb food. Awesome spot to people watch.
MILANO COFFEE
Hands down, THE BEST COFFEE SHOP in Gastown!
If you haven't experienced their homemade almond and walnut milks for your latte, you're in for a real treat! This trendy chic coffee shop is a gathering place for friends, meetings and a very cool place to hang out and get some work done. It's THE go-to place in Gastown!! Their wifi is awesome as well :)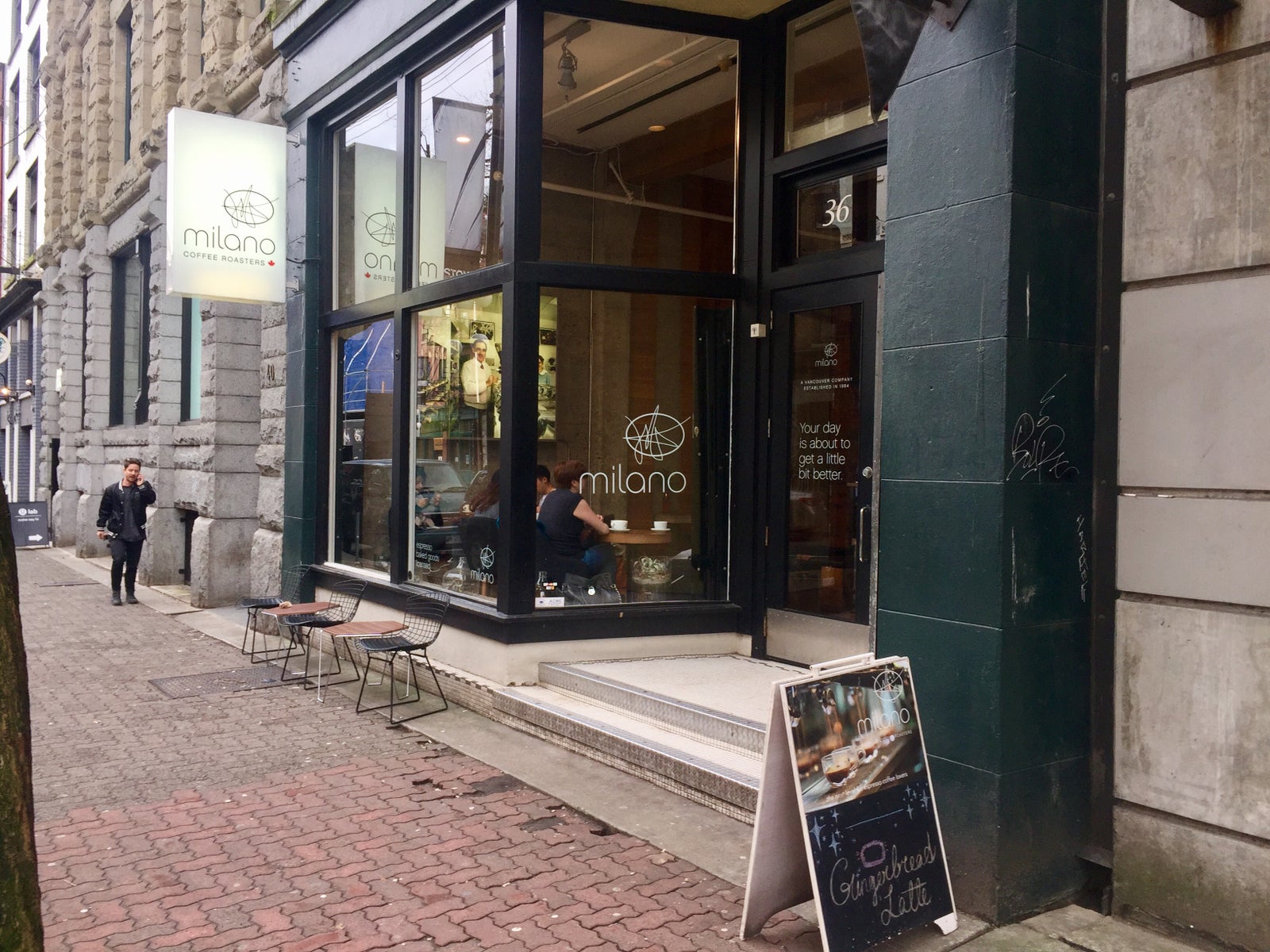 Don't you just love the design of this shop? The exterior reminds me of being in NYC, with the bricked sidewalk and large storefront windows. I also love sitting out front watching all of the pooches come out of EZ Dog and the tourists walking around.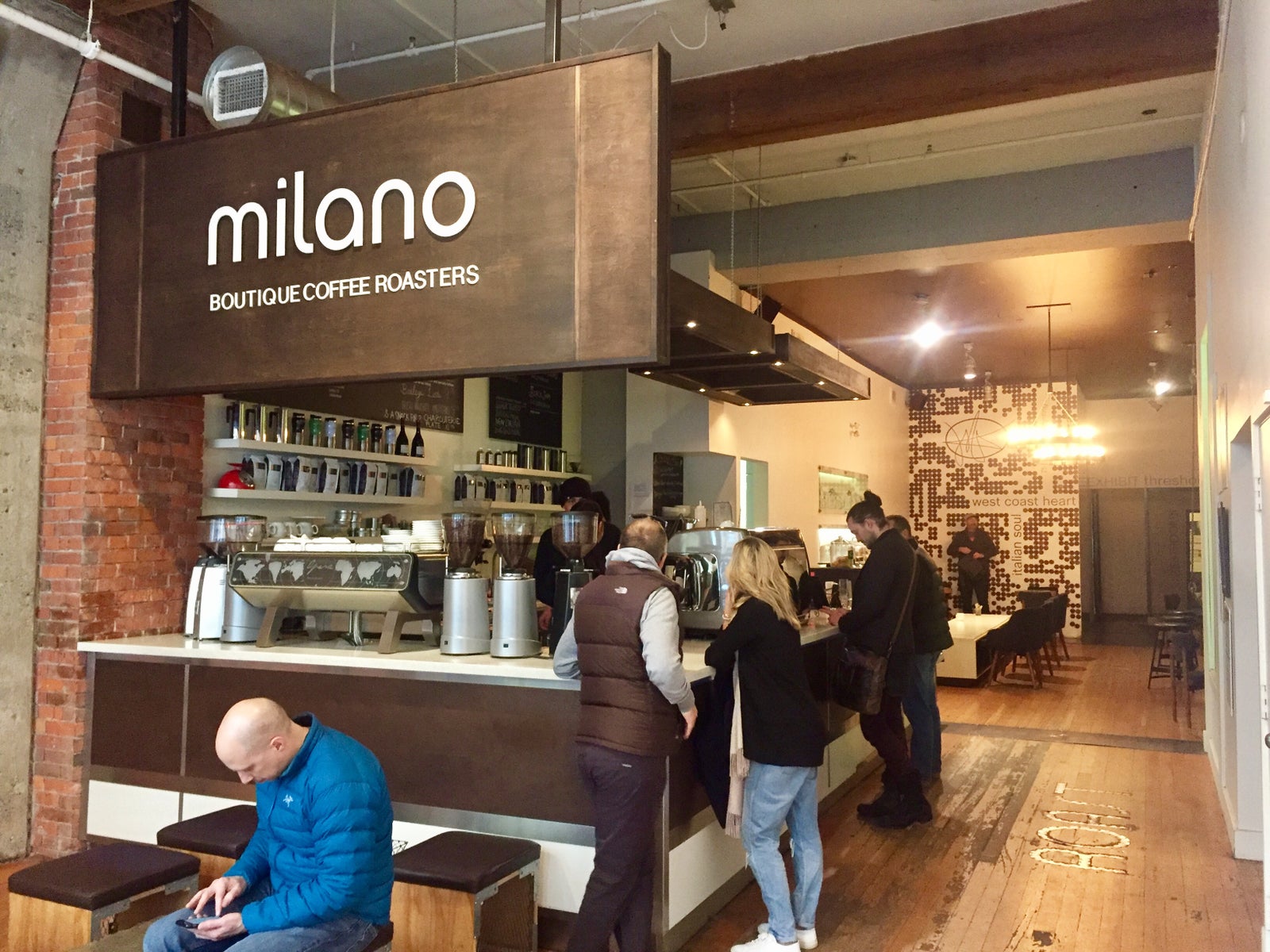 The interior is modern and chic with just the right amount of ambience lighting and the music. The front is full of lovely little cubed leather seats, perfect for a party of one or more. Love, love, love this place!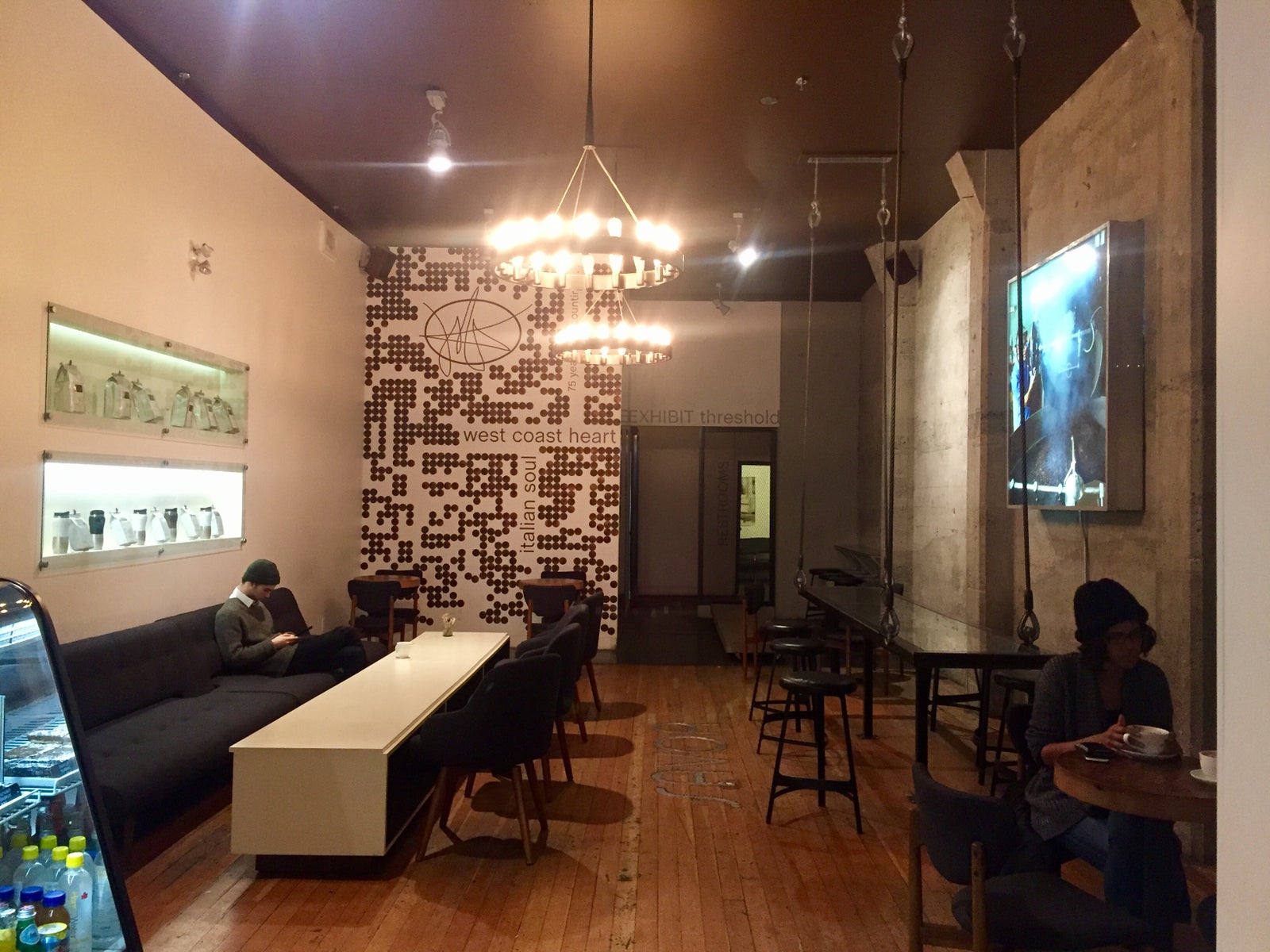 Chic and trendy, the back room where everybody settles into to get some work done! The glass table to the right is suspended from the ceiling and that sofa to the left seats a good 8-10 people. You'll find many meetings taking place here from time to time as well entrepreneurs interviewing candidates for their next start-up popping up in Gastown!
EZ-DOG Pet Store
Let's not forget about our furry friends & fur babies!
We love EZ-Dog and so do our pups! There's no one we'd entrust more with our pups than to Farrell. His love for fur babies, young and old, is quite apparent in the way he cares for them at the doggy day care he runs in the heart of Gastown.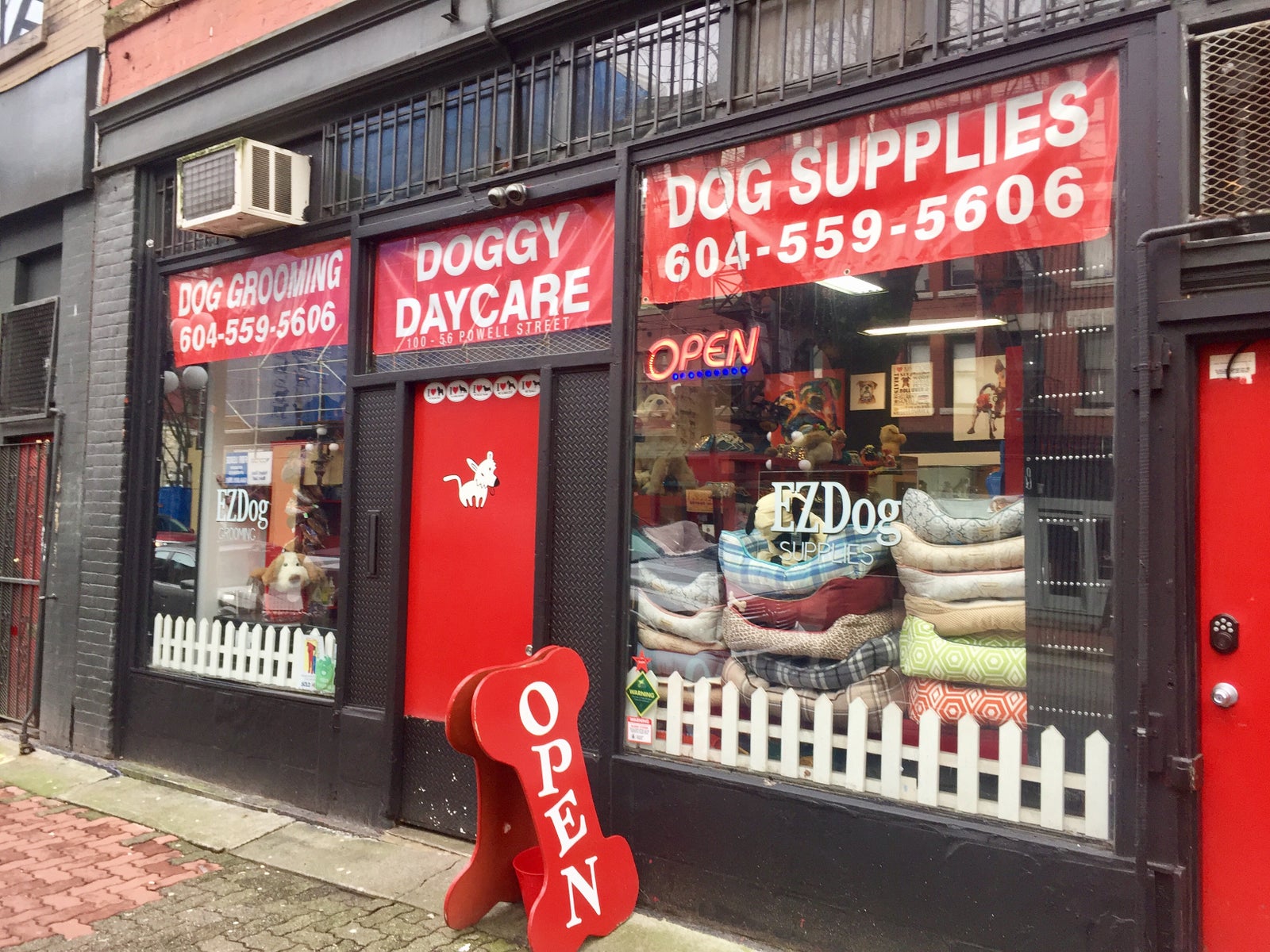 Big and small, old and young, he can be seen walking around town with his girl, Jade, a beautiful Bull Mastiff and other pups in his care. Workers in Gastown can be seen dropping off their pups in the morning for a fun-filled day of doggy shenanigans with their crew.
Farrell also offers full-service dog grooming, nail trimmings, all of the dog accessories you can think of and top of the line dog food brands. Everything you can think of, he's got! Drop your pup off for a few hours and head into Milano's while you wait ;)
APARTMENT THERAPY
PARLIAMENT INTERIORS
Hands down, this furniture store is one of the best you'll find, especially when decorating small spaces, and if you've got an apartment in Downtown Van City, then you more than likely have a small space to furnish. One of the great things about the pieces offered here is that they're multi functional, and in a small space, functionality is king!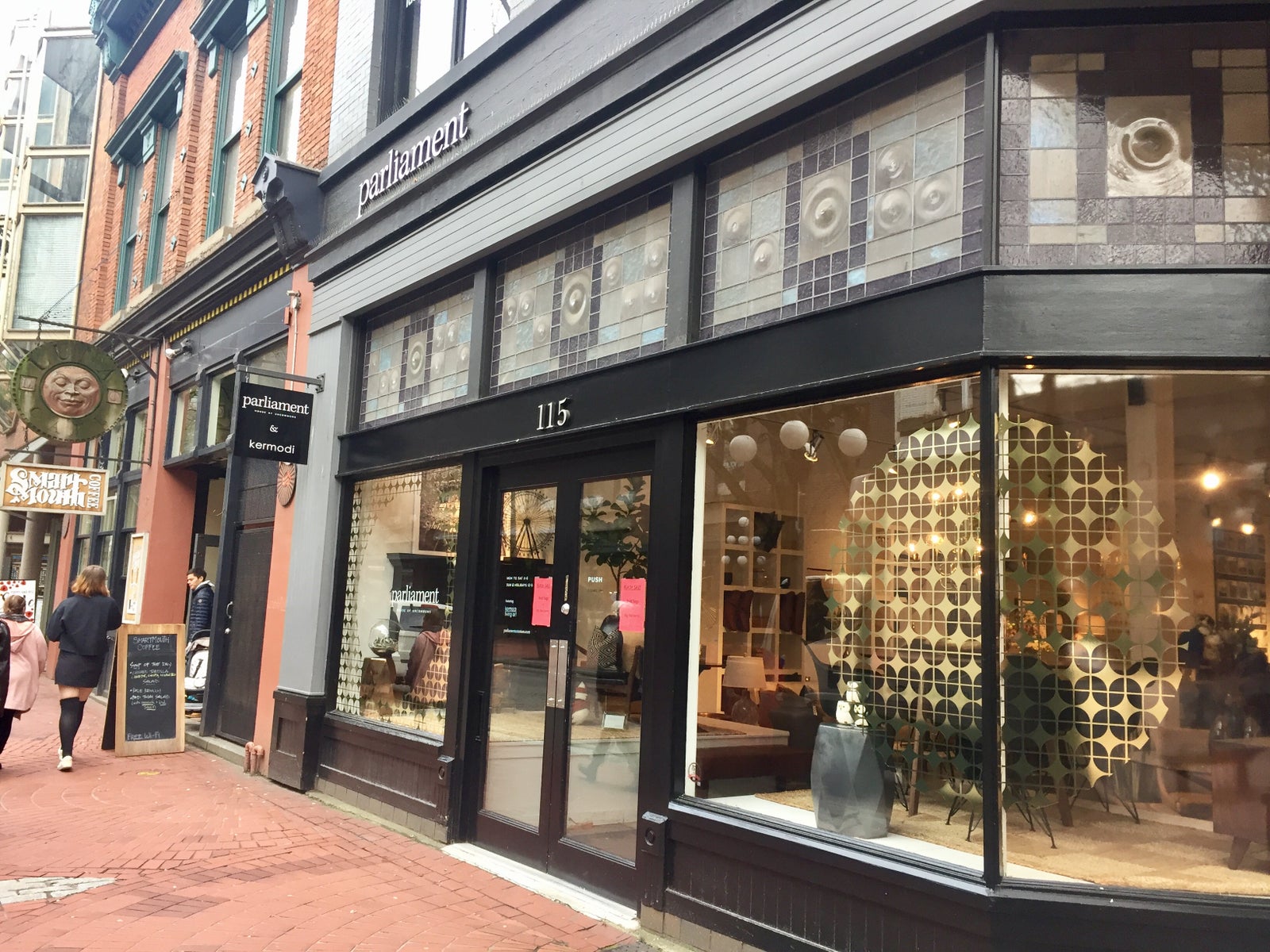 Parliament offers so many wonderful modern and mid-century pieces, and their walnut pieces are exquisite. We ended up purchasing a mid-century buffet piece for our dresser in our master bedroom in our condo. It was the perfect option for the size we were looking for, and by using woven baskets on the internal shelving, it worked out most excellent since we were working around a California King bed! We also found two perfect walnut end tables that fit perfectly as well.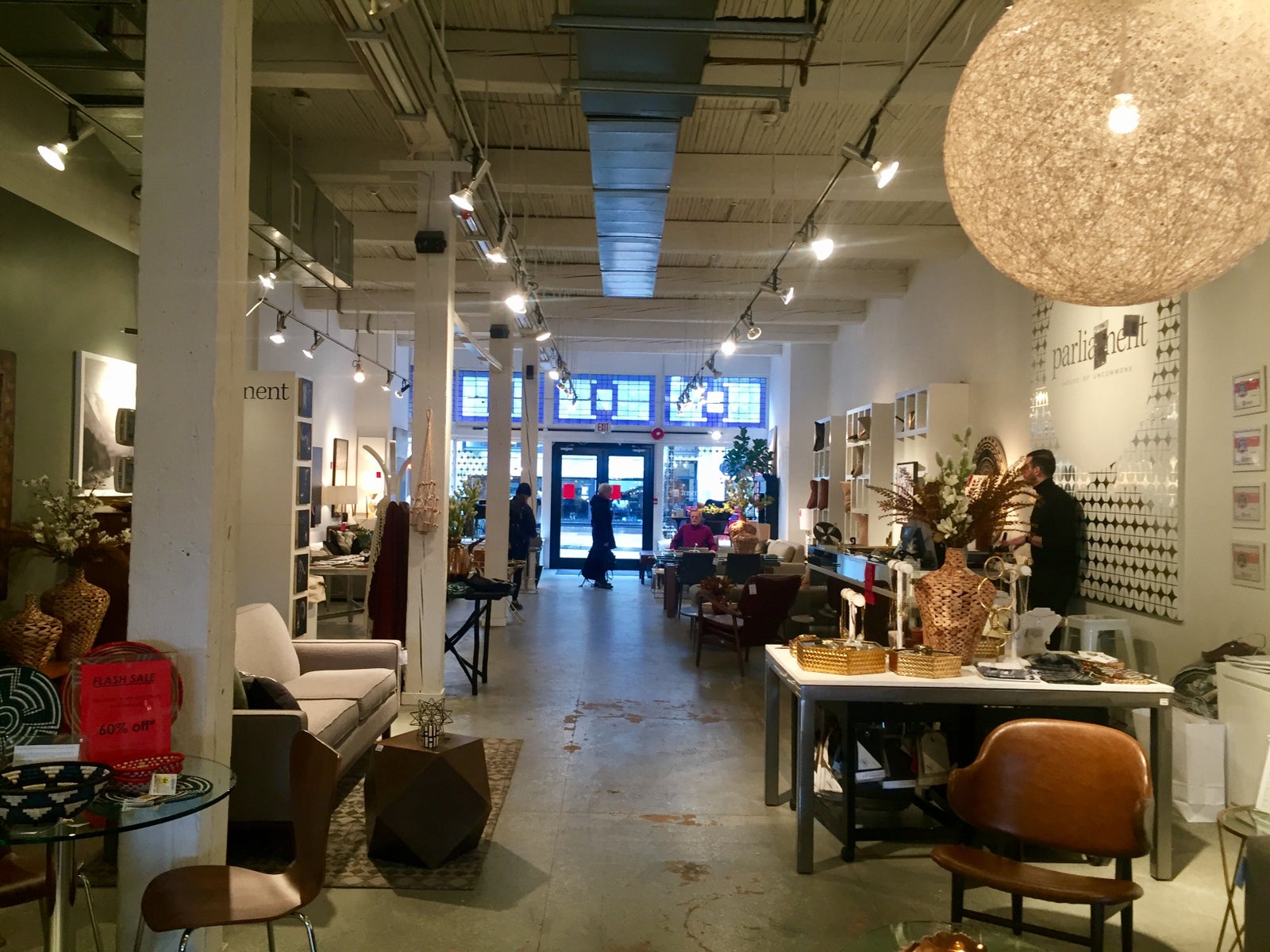 In addition to the furniture selections, there's quite a bit of artwork from local artists adorning the walls, modern light fixtures which make for great focal points, and lots of home décor accessories from placemats to table runners, to accent pillows to great big storage beds!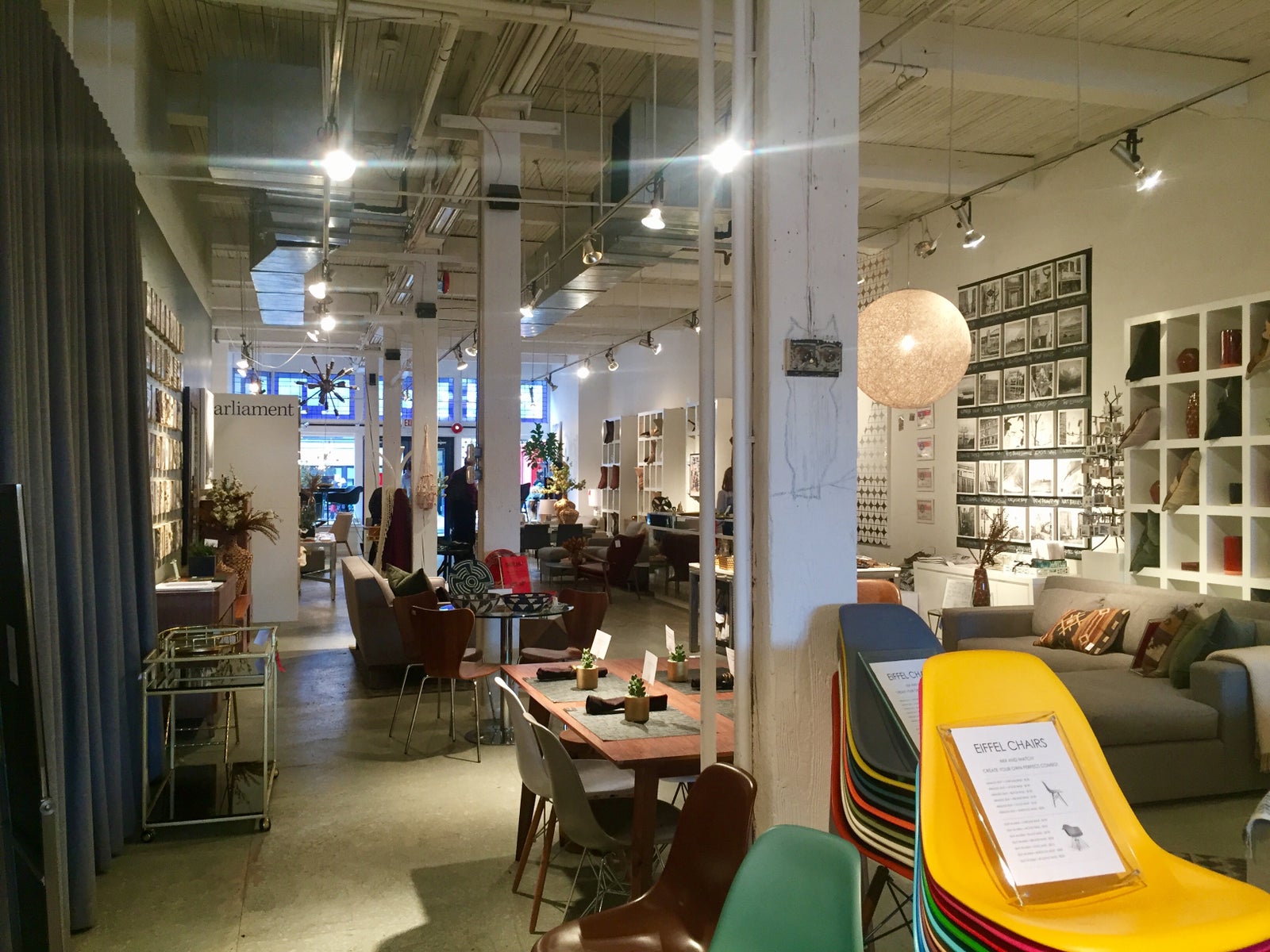 We also found a great dining room table here complete with chairs, and what's fun about their selection is that they have a great palette of greys and whites to choose from, but then offer great pops of color, such as the yellow, red and green chairs you can see stacked in this picture. And don't forget your bar cart! It's a must in your Downtown apartment because it can be used as a coffee cart, a bar cart, or a your entertainer's cart to roll into your living room when entertaining!
This contemporary modern furniture store has many price points to meet your budget, so make sure to check it out when you're strolling around Gastown…and they deliver! Also, they have GREAT customer service, so check it out. You won't be disappointed.
WE SELL GASTOWN!
We have a decade of experience selling Gastown and have many happy clients who work, play and live in this vibrant community. The neighbourhood is a hotbed for entrepreneurs, artists, entertainment (home to ILM – Industrial Light & Magic), students and tourists alike, so what's not to love about living and playing in this vibrant community.
From lofts to chic little buildings to the vast Woodwards Bldg., we've sold many happy clients into the following properties:
The Crane: 546 Beatty
The Crane warehouse building dates back to 1911 and was built for the Chicago-based Crane Company.
518 Beatty
Brick and timber 1911 Heritage building converted in 1996 featuring open studio floor plans, hardwood floors, and brick and beam detailing.
Koret Lofts
Large New York style open lofts with sandblasted exposed brick, posts, beams & ceilings. Commercial live/work zoning.
Woodwards
Iconic Woodwards Building, rich with history, in the heart of Gastown, combies a mixed use commercial, retail and residential which can be seen from most all areas of Downtown Vancouver.
Metro Living – 531 Beatty
531 Beatty, built in 2007 featuring concrete construction and a brick facade mirroring the historic buildings along this stretch which bridges This stretch of Beatty is Gastown & Yaletown.
V6A – 221 Union Street Lofts
V6A is located in Vancouver's most up and coming neighborhood. Restaurants, coffee shops, shopping and transportation all within walking distance.
The Taylor Building – 310 Water Street
1911 architecture, soaring 10-14 foot ceilings, timber beams, brick feature walls. Excellent location above eateries and all the Water Street in Gastown offers.
Powell Lane – 28 Powell Street
New construction built in 1994, this building blends in well within Gastown, offers great lengthy balconies and penthouses with private rooftop decks.
The Alexis - 27 Alexander Street
Alexander Street Railtown – 626 Alexander
Contemporary residences and lofts located in history Railtown with amazing views from the rooftops.
The Cordovan by Boffo - 557 Cordova
A hop, skip and jump to this great location, near Gastown, The Drive, Railtown, Downtown & Strathcona. Green courtyard, top end finishings, overheight ceilings and more!
The Garage – 12 Water Street
Near the crossroads of Carrall and Water Street, with 34 units, 6 levels, elevator access, polished concrete floors and underground parking. Prime location in Gastown!
And more…
We'd love to take you to coffee at Milano's and chat about your next move. Give us a call!
Thanks so much for stopping by!
Morgan, Kelsie & Roma